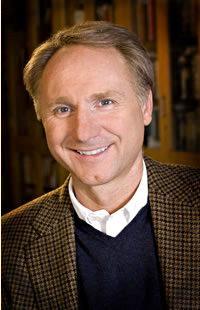 I thought I posted this a long long time ago (according to my saved file, it was back on April 10th that I saw this). This is the next Dan Brown book, coming out September 15th. I won't be waiting for this one to be a Christmas present. This is the third Robert Langdon novel that Dan Brown has written. I can't wait.
From Danbrown.com:
BREAKING NEWS:
Dan Brown's new novel
THE LOST SYMBOL
To be published by Doubleday this September
New novel by the author of "The Da Vinci Code" and "Angels and Demons" will have a first print run of 5 million copies, the largest first print in Random House, Inc. history
Click here for PDF version
PRE-ORDER NOW:
Amazon | Barnes&Noble | Borders | IndieBound | Random House
New York, NY (April 20, 2009) Dan Brown's new novel, the eagerly awaited follow-up to his #1 international phenomenon, The Da Vinci Code, which was the bestselling hardcover adult novel of all time with 81 million copies in print worldwide, will be published in the U.S. and Canada by Doubleday on September 15, 2009.
The Lost Symbol will have a first printing of 5 million copies, and it will once again feature Dan Brown's unforgettable protagonist, Robert Langdon. The announcement was made today by Sonny Mehta, Chairman and Editor in Chief of the Knopf Doubleday Publishing Group.
"This is a great day for readers and booksellers," said Mehta."The Lost Symbol is a brilliant and compelling thriller. Dan Brown's prodigious talent for storytelling, infused with history, codes and intrigue, is on full display in this new book. This is one of the most anticipated publications in recent history, and it was well worth the wait."
Brown's longtime editor, Jason Kaufman, Vice President and Executive Editor at Doubleday said, "Nothing ever is as it first appears in a Dan Brown novel. This book's narrative takes place in a twelve-hour period, and from the first page, Dan's readers will feel the thrill of discovery as they follow Robert Langdon through a masterful and unexpected new landscape. The Lost Symbol is full of surprises."
"This novel has been a strange and wonderful journey," said Brown. "Weaving five years of research into the story's twelve-hour timeframe was an exhilarating challenge. Robert Langdon's life clearly moves a lot faster than mine."
The audio version of The Lost Symbol will be published in North America in September by Random House Audio.
The Da Vinci Code, published by Doubleday on March 18, 2003, spent 144 weeks on The New York Times Hardcover Fiction bestseller list, 54 of them at #1—the position at which it debuted. The novel has been translated into 51 languages.
The film of The Da Vinci Code was a #1 box office smash when it was released by Columbia Pictures in May 2006 with Ron Howard directing and Tom Hanks starring as Robert Langdon. Box office receipts were $758 million. The same team will release Angels and Demons theatrically worldwide on May 15, 2009.
Following the publication of The Da Vinci Code, Dan Brown's earlier novels, Digital Fortress, Deception Point and Angels and Demons have all gone on to become multi-million copy international bestsellers.
The Lost Symbol will be published in the U.K. on September 15th by Transworld Publishers, a division of The Random House Group who has published all of Brown's novels.
Dan Brown is represented by Heide Lange at Sanford J. Greenburger Associates, Inc.
Doubleday is an imprint of the Knopf Doubleday Publishing Group, a division of Random House, Inc. whose parent company is Bertelsmann AG. For more information about Doubleday please visit our website at http://www.doubleday.com. For more information about Dan Brown please visit www.danbrown.com.